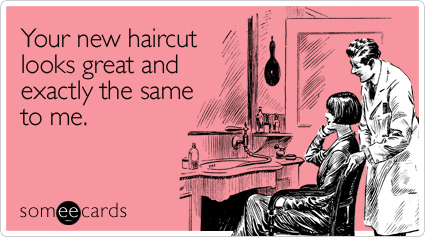 Sorry
Gaga
, but I'm going to have to go with India.arie on this one;
I am not my hair.
I am not this skin.
I am a soul that lives within.
In the case of getting one's hair did, I believe there are two camps with females - those who fuss and those who couldn't give a fuss. I fall in to the latter camp. The least amount of time that I can spend on general beautification the better. The past couple of weeks, however all I have done is fuss about my hair. I've reached that point, which I reach every couple of months/years, where I've realised that my 'hair ritual' isn't actually working for me.
Before we go too far into 'haircare' I'll tell you a little bit about my hair.
Firstly I suppose I should define it by typical standards; Afro hair. Never been straightened, chemically or otherwise, It is I believe what they call
Type 4
or kinky-curly. When I was younger it'd usually be in plaits or bunches. Now I have plaited extensions, which I'm quite attached to (pun intended). I wash, plait, 'extend' my hair myself, sometimes with help from my mum, aunties and once in a while my dad. One common misconception about my hair is that they are
dreadlocks
, they are not; The second is that I won't mind you touching my hair because you think it's 'cool' or 'funky', you may not touch my hair.
I love my hair.
As with many things about my body/appearance it's taken me a while to get to that point, but I do.
I love my hair.
As I imagine a lot of black women do, It's difficult finding beauty stuff that work for me without having to go to specialised shops (say for example, if I want to just nip to my local Boots), none more so than 'hair care' items. This year alone I've gone through 3 different brands of shampoo, with results ranging from allergic reactions to never actually feeling like my hair was clean, and I try to find things that contain natural ingredients and aren't tested on animals, which is what led me to Lush.
I'm pretty faithful to the beauty products I use as my skin hasn't really changed since my teen years, I haven't needed to change much. When I do however decide to stray I normally stray to Lush (which has had an exceedingly detrimental affect to my Boots points balance). This is however the first time I've tried Lush hair
'stuff'
and I have to say I'm a bit of a convert.
I used Lush's solid shampoo,
Trichomania
. Their solid conditioner,
Jungle
and leave in hair treatment
R&B
. All of which left my hair feeling super soft and smelling gorgeous - I've even had compliments on how lovely my hair smells (even now up to a week after having done my hair). I'm so pleased that all the products worked so well in my hair, like said, I don't enjoy trying new beauty products so to finally find something that I really love is fantastic - definitely a beauty success!
Do you have as much trouble as me when finding beauty products? Are there any beauty products that you swear by?